Worldwide, students 3D print concept cars, architectural models, functional models, prototypes, and all sorts of other things with us. We really love working on those projects. So, if you're a student at a College or University and want to use 3D printing for a school related project, we're giving you a 20% discount if you 3D print with us. We're especially interested in Design Academy students, engineering students, product design graduates, and fashion students. Nevertheless, feel free to surprise us with your work from any other discipline.
However, there are some rules and remarks to get the 20% STUDENT DISCOUNT.
You have to be enrolled at a College, University or Technical school.
You must contact us using an .edu or other university/school email address to verify this (sorry about this but someone always will play unfair even though virtually all are fair). In case you didn't know yet, get in touch with us through contact (@) i.materialise.com (just to be clear, leave out the brackets and the spaces when you use it).
The 3D print(s) you order are for a school or school related project.
When your project is finished, you provide us with images to show your work. We love seeing the result of your hard work. If we'd like to show them on our blog, we will ask for your permission first.
Enter the promo code MASTER3DPRINT2012 (quite a mouthful, isn't it) during the checkout process.
We have the right to refuse selected orders in some cases. We probably won't ever but we thought we'd put that in to be sure. Now, we wouldn't want other 3D printing services ordering from us would we.
As always, free shipping is applied above a $99/99€ order value.
 The 20% discount is valid on all of our non-metal materials: polyamide, alumide, multicolor, high detail resin, paintable resin, transparent resin, prime gray and ABS. The offer also applies for dyed and velvet polyamide AND for the polyamide priority service. We know this can particularly come in handy as deadlines approach.
Don't worry about pricing too much. Our 3D print lab is, without any doubt, the quickest and most straight forward way to get an instant price for your model (with the exception of transparent resin though). No login required, upload your model, select different materials, and see which one suits your project best.
The most popular material for student projects is by far polyamide. And as not everyone needs make big things, prices for small models in polyamide and alumide were recently cut in half. Just remember this is a temporary offer ending at the end of May. Read more about the price drop.
Don't forget about the production time of your model (generally between 5-15 working days) and the actual delivery time (1-2 days). Sending in your project in time will save you (and us) a lot of stress. That's a promise!
The 20% student discount is valid only until the end of this school year, meaning the 30th of June 2012.
We hope to see a lot more of your inspiring work in the future. And don't forget we have a great Customer Service team with talented support engineers to help you in getting a wonderful result.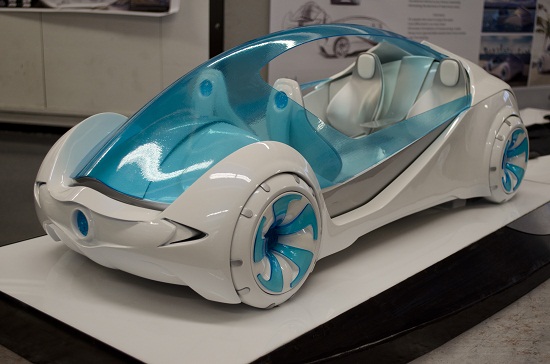 Ula Miami Concept Car by Josh Henry
Transportation Design student at The University of Cincinnati, Ohio, USA.
Material: transparent resin
Comments