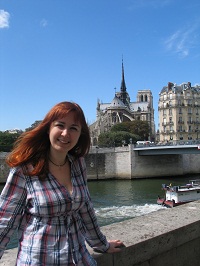 Our dear colleague Darya
My name is Darya, I am 24 years old and I am a customer support engineer at i.materialise. Meaning, I'm one of those people who are e-mailing you every day saying that you are about to get your desired 3D printed models and I must admit that I'm more than excited to be one of them! I've been working for Materialise for almost 2 years and my way to get to i.materialise was more than unusual. I started my career as a part of the HR team at the Materialise Ukraine office. It was the very first time that I came in contact with 3D printing and it became an amazing discovery to me. I was impressed and proud to work in such a company and told everyone about King Tut's replica made by Materialise. As soon as a vacancy for customer support engineer at i.materialise opened up, I jumped at it to become a part of the world of 3D printing and I did not miss it. Everyone was surprised with such an unusual shift from HR to support, but here I am!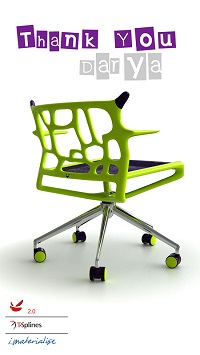 customer servicer at its best
There are several things that bring it close to being a dream job for me. First of all, it is getting to know people from all over the world and working with talented designers, engineers and people who are as excited with 3D printing as I am. Second thing is helping out these people and seeing the results of my work. At first it is just a virtual object on the screen and with my help it becomes real so you can take it in your hands – isn't it a miracle? And ultimately, I enjoy it very much when getting positive feedbacks from our customers on what we are doing. I'd like to take this opportunity to say hi to Rendy Himawan, the designer of the Diavolo chairs who has sent me this lovely postcard.
I have a Master degree in English and French philology, so aside from my main job, I'm giving private lessons of the English language to people who are in search of work in an international environment. Besides, I have several hobbies such as playing guitar, singing and writing short stories (some of them were even published). From time to time, I also take part in a "car quest" game and spend the night solving difficult puzzles, driving all over the city and visiting abandoned houses in search of hidden codes. I am also a great theater lover as I graduated from drama school and even spent some time of my life being a mime. The proof is in the picture below.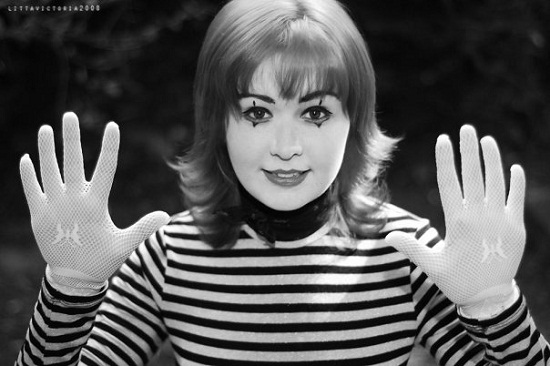 Darya as a mime
It was a pleasure to introduce myself and, as always, I am ready to help you with your 3D prints, so feel free to e-mail us.
Go here to see the original: Meet the Team: Darya
Comments